Dog Paintings by Tim Milk
Rula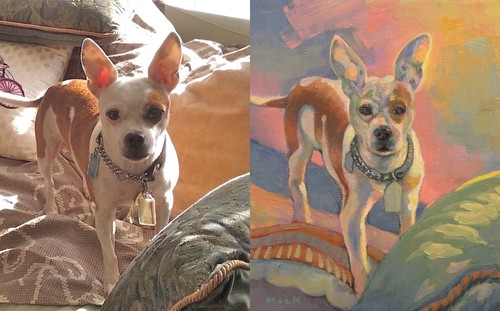 About Tim Milk
Tim Milk has worked in visual arts for over 30 years. He has a degree in Fine Arts and studied drawing animal and human anatomy with the legendary Minerva Durham in New York City.
Tim began painting dog portraits with a posthumous portrait of Timber, a friend's beloved rescue dog who had recently passed. Tim says, "Studying Timber's photographs gave me all the insight I needed because dogs hide nothing. Everything about them shows on their faces. Look into their eyes and you look into their souls. It takes an accomplished artist to reveal what's there, but in each of the portraits it has been a gratifying exploration to capture their unique personalities on canvas.
9 X 12" — $400
Ginger

For the best portrait study of your animal companion:
please provide 1-2 good photos of the animal to be painted. Photos do not need to be perfect, but hopefully will show expressions and poses that the animal's guardian appreciates.
please take the photos at the animal's eye-level and not too close. You will want to avoid distorted photographs.
please use good light like reflected lamp light, window light, out-of-doors daylight (sun to one side). No flash photography, please.
please provide another 2-3 photos of the animal from various angles.
videos are helpful (but not required) and can reveal much about the dog's personality. Sometimes a single frame can be used for the portrait. MP4 format is fine.
posthumous portraits are possible if there are good photos from which to work.
9 X 12" — $400
Duffy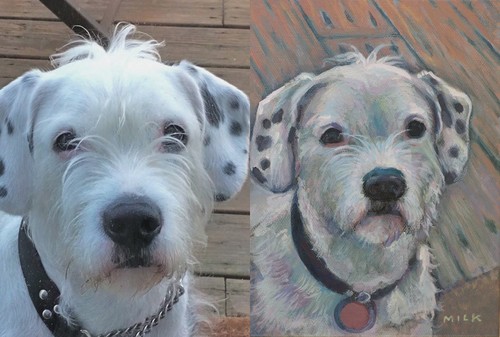 Tim's animal portraits are done in the luminous Venetian Style.
9 X 12" — $400
Bingo

He works exclusively in acrylics.
9 X 12" — $400